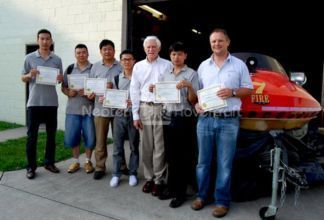 Personnel from Freeway Technologies Co. Ltd., Xiamen, China,
graduate from a week of intensive flight training and maintenance
instruction at Neoteric. From left: Yu Xie, Chuan He, Zhiqiang Wang,
Wenming Qiu, Chris Fitzgerald, Shixian Liu, Arno Mohr.
Announcer: A local business is catering to a select global market and it has been doing so since 1975. NBC's Wes Woodward takes a look at a product and a company that you may not have known existed ...
International figures originating from all points of the globe. State of the art technology applied to a ultra modern vehicle. A clandestine research and production facility hidden in plain sight …

All the makings of really good spy movie right here in the Wabash Valley, right?

It's not the latest James Bond thriller, but Neoteric Hovercraft.

Hovercraft ride on a cushion of air and can perform a host of duties. "Extremely useful in water rescues, on thin ice and rapidly flowing water ... and in other places other vehicles can't go," says firm president Chris Fitzgerald.

Australian Chris Fitzgerald brought the company here in the mid 1970s and itís been going strong ever since, especially on the global scene.

"Itís not like selling hamburgers, we're really selling to the world market,Ē states Fitzgerald, ďWith a hovercraft itís perhaps a lot more like a helicopter than a boat. So it requires a bit of training and as a consequence over the last 30 years we have trained almost a thousand people from all over the world."